Louis Joseph Papineau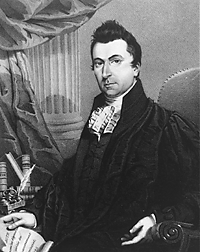 L. J. Papineau, was born in Montreal in 1786, and died in 1871.
In 1809, he won election to Lower Canada's Legislature. French Canadians formed a majority in the elected assembly.However, the British governor and an appointed Legislative Council controlled by English-speaking officials decided allimportant matters.
Papineau's group, called "The Patriotes", tried to lessen the Council's influence. He organized a French-Canadian revolt againstthe government of Lower Canada in 1837. The rebellion failed, but it focussed attention on the desire of French Canadians tocontrol their own affairs.
Papineau fled to the United States to avoid arrest and later moved to Paris. He returned to Canada in 1845, when thegovernment granted him a pardon. He served in the Canadian legislature from 1848 to 1854.